Notes from the Farmer's Daughter – Introducing – Fine Lines Landscape and Design
I always like to highlight local businesses, but what is local? Some consider local to be the village or town they live in; others believe it to be their township or county. Many think provincial, "Ontario Fresh," for example, and then there are those that ensure their purchases are Canadian Made, a vital factor to consider.
Whatever your definition of local is, Fine Lines Landscape and Design and owner Laura Moses falls into my definition of local. A Seeley's Bay resident where she got her start, Laura now lives in Kingston and dreams of moving to the Westport/Maberly or Perth area. Regardless of where she hangs her work gloves at the end of the day, Laura brings her talents to Kingston, Ottawa and all those areas in between.
For the past decade, Laura, a Certified Landscape Technician and Horticulturist, says she has been known as "Eastern Ontario's fruit tree guru." When asked what her specialty is, if she had to choose one, Laura says, "perennial, edible and medicinal gardens, though she states she has a calling to water features!"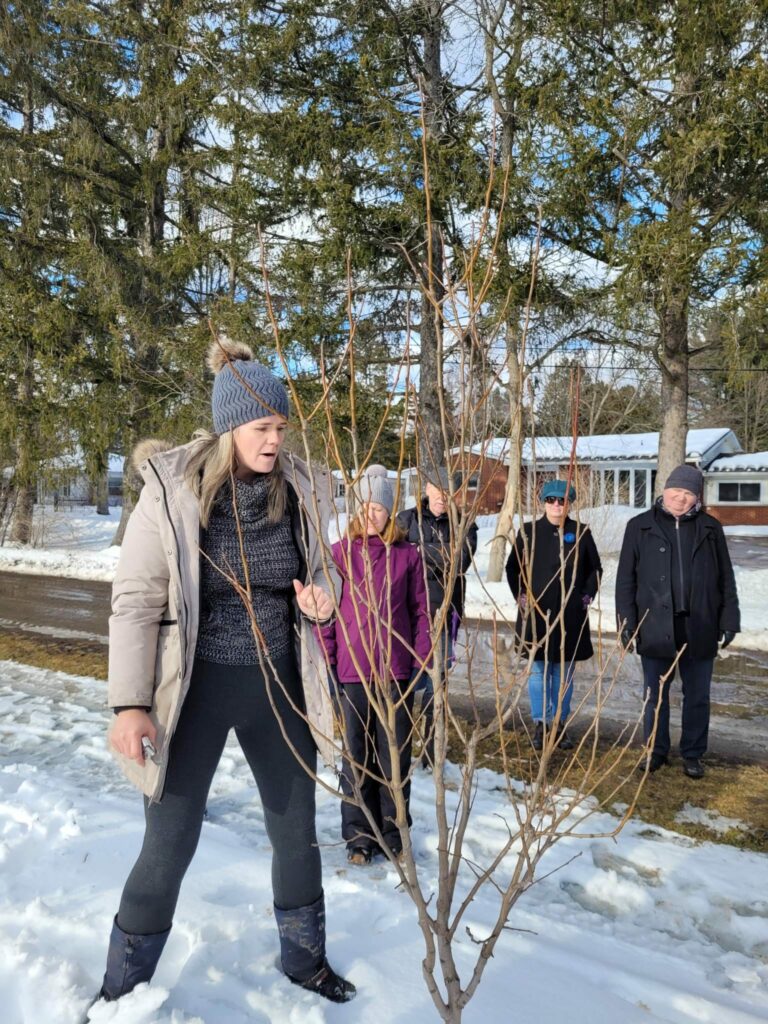 Now in its 6th year, Fine Lines Landscape and Designs has grown to a small team, including a full-time office manager, a full-time lead hand, a part-time helper and Laura leading the team. With sixteen years of industry experience, Laura holds a Red Seal Journeymen Landscape Technician Certification from the Canadian government, including a five-year apprenticeship. Laura is also a Certified Landscape Horticultural Technician with an Ornamental Maintenance Designation.
Her expertise makes Laura a sought-after speaker who often gives presentations to area garden groups. She also hosts a variety of hands-on workshops, including her popular succulent soiree, a Moss Pole Pothos workshop, and Framed Moss Art and Concrete Planters workshops.
Curious, I asked Laura about the current trends in residential landscaping. From what she tells me, including an element of water is on trend, which is one of the reasons she is "so excited to be bringing fountains, waterfalls and rainwater harvesting into her offered services." She also says that "fire is another hot trend," no pun intended, and of course, edibles are popular for multiple reasons, including budget.
Personally, perennial fruit is a must in my garden. When I asked Laura how someone such as myself with an unpruned mini orchard could benefit from services such as hers, she gave me a host of compelling reasons to seek professional assistance if I cannot prune it myself. She told me she could easily do a three-hour presentation on that topic alone, but she got me at "The fruit will be bigger and sweeter!"
I uncovered a wealth of information communicating with Laura for this article, too much to possibly share. However, I think it is essential to include that Laura attends industry training every winter to keep current on standards and learn new skills. Eager to enhance her client's yards, Laura is offering a discount to the first five people booking a fountainscape (think bubbling walls, pillars, urns, and bowls).
This year, Laura has also added landscape lighting to her services and a Digital Design option, an idea inspired during covid times, for those looking to do their own projects yet seeking professional guidance.
Laura works using organic standards, using all-natural products in her gardens. She fondly showed me some inspiring before and after pictures, including one that involved a total overhaul with a new shed, gardens, sod, and custom fountain, turning a neglected lot corner into a backyard oasis. For more information, call Laura at 613-453-7423 or check out www.FineLinesLD.com to see how your local property can be transformed.