Notes from the Farmer's Daughter – Morton, From A Paddlers View
(As printed in The Review Mirror.)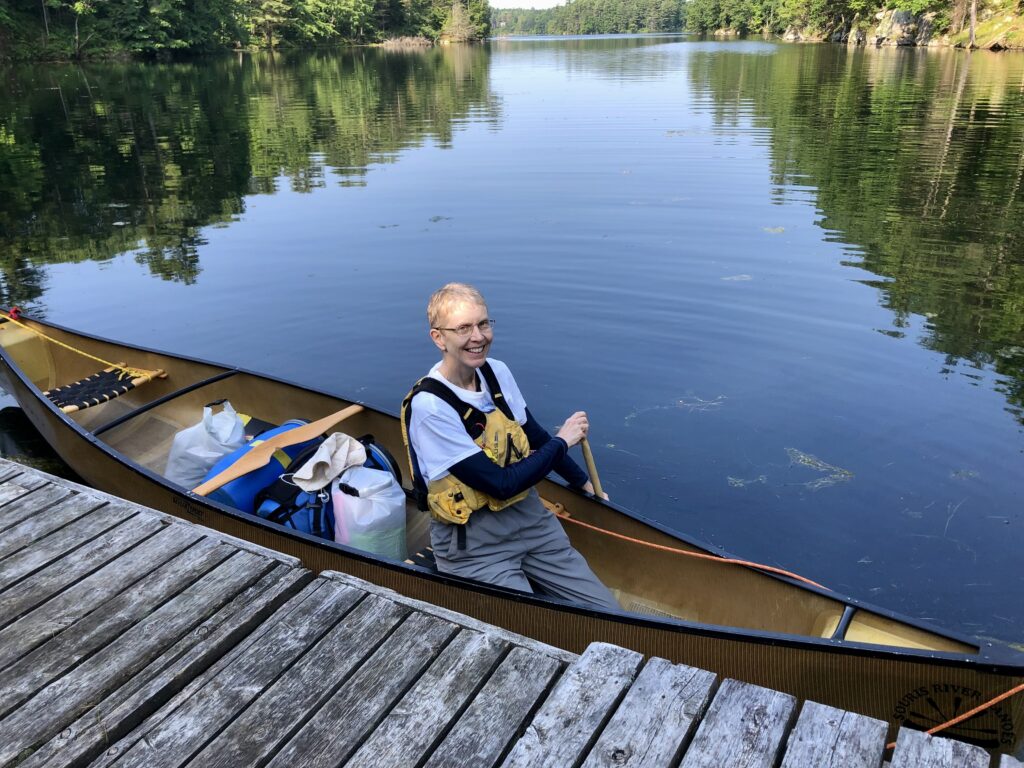 Karen Hurd of RC Canoe Camping Club in Ottawa getting ready to leave Morton Bay.
I recently had the opportunity to see our area, specifically the body of water accessed from the village of Morton, through the eyes of a canoeing enthusiast travelling from Ottawa.
Karen Hurd, a canoe trip leader, instructor, and member of RA Canoe Camping Club in Ottawa (RACCC), kindly took time after a recent canoe camping excursion in our area to answer my questions. I hoped to gain feedback about paddling our local waterways and learn about the RACCC.
When asked why they selected this area for their recent canoe trip, Karen said that she was told by a Rideau Canal expert and avid canoeist that she should not miss Morton Bay, Morton Creek and Rock Dunder. Looking for a place near Morton to say, Karen and her husband, James, discovered Munday Cottage at the mouth of Morton Bay, which made an ideal location to make several day trips from.
Each day trip had eight or fewer participants (the norm), and each day brought different challenges, including unfortunate smoke and heat warnings and rain or thunderstorm forecasts which did cause some cancellations and delays. However, Karen tells me many highlights were experienced during the paddles, including Morton Creek and Lower Beverley Lake, Gananoque Lake to Gananoque, Upper Brewers to Kingston, and Morton Bay to Haskins Point.
Karen shared with me her notes for each trip, and though space in my column is limited, I wanted to share a clip from her notes regarding the Morton Creek/Lower Beverley Lake trip:
"High of 25 C, mix of sun and clouds, air quality 6 – moderate risk. Paddling distance (was) about 15 km. Here we were explorers, like the paddlers of old. There was an element of adventure and surprise. Some locals told us we would not be able to get through Morton Creek because of weeds. Two avid paddlers told us we could get through Morton Creek, even in July. The latter proved correct, and weeds were not an issue at all. We had good maps and a paddling guide. We did not know what we would find in Morton Creek between the town launch on Highway 15 and Lower Beverley Lake. We loved that local Elaine H greeted us at the launch! On the creek, we saw lots of herons, a cuckoo bird (which is rare), a beaver and some beaver lodges….This area has lots of paddling history! The Lower Beverley Lake Association self-tour of the lake (https://lbla.net/wp-content/uploads/lake-map-2010-v6-updated.pdf), showed us the points of interest on this lake. This was very helpful and allowed us to understand some of the history and the things we saw. We liked the osprey nest at the Parks Canada Skaryna nature area, the Canoeshuk to honour paddlers who have gone before us, Blue Heron Point, where we saw a heron, the eagle platform where we saw an eagle honouring "Eagle Man" Charles Broley and Kendricks Park beach where we could swim and eat ice cream when we were getting hot."
Reading over the bulk of Karen's notes from the trip provided me with a unique perspective; from the outside looking in, it sounded splendid indeed, and her confirmation of rebooking for next year tells me it must have been a hit.
I was pleased to learn that when docked, the travellers also ventured on foot, purchased some treats in Seeley's Bay, and explored, in their words, "the excellent 1000 Islands History Museum in Gananoque". A special mention of the lovely canoe garden at Haskins Point was made, and suggestions for perhaps more parking signage were noted for Morton, "a tiny village, mighty in spirit," commented Karen.
To learn more about canoe day trips and camping, check out www.raccc.ca. Approximately 270 RACCC members currently exist, and anyone can join for about $50 per year. The cooperative club operates with volunteer leaders and instructors. Canoe Camping Club trips are generally scheduled from June to September though many members paddle from mid–March until mid-December with the appropriate clothing and gear.
Regardless of being a member or not, Karen made some helpful suggestions when asked what advice she would offer to others looking to canoe the local lakes. Karen said obtaining good maps and access paddling guides helps make the most of the experience, noting the Watson guides to the Rideau Canal and the Beverley Lakes Paddling Guide as perfect examples.
Safety is paramount on the water, and Karen says staying near shore is always safer than crossing a large body of water. They also carry a Garmin InReach device that tracks their route and can send and receive messages via satellite when cell phones don't work. Karen suggests using the following online site https://www.adventuresmart.ca/paddling for more information on safety essentials, and she strongly advises that people get training (an ORCKA or Paddle Canada Canoe Course) in canoeing or kayaking and how to rescue a dumped canoe. The RACCC offers Paddle Canada courses from late May to early July.
When asked one final question about her favourite spot out of the recently visited locations, Karen said she would choose "Morton Bay – Rock Dunder, the cave, the swimming rock and the scenery can't be beat!" Other favourites were Morton Creek and the Gananoque River's excellent routes, feeling like real adventures, having not travelled them before.
To connect with the RA Canoe Camping Club or Karen, e-mail info@raccc.ca and join in discovering our area's beautiful bodies of water!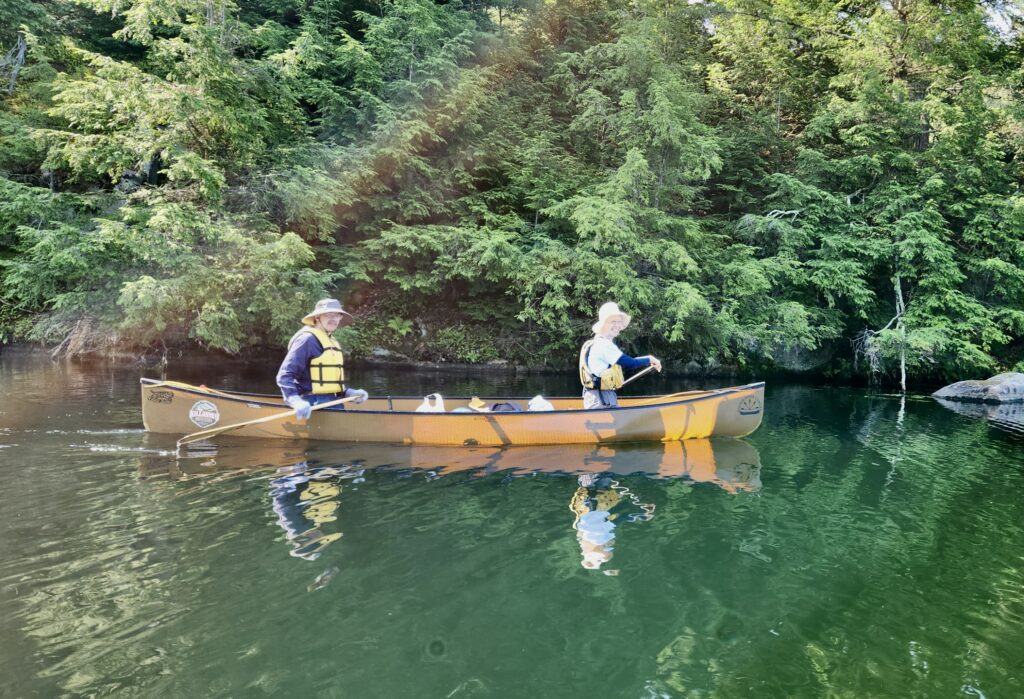 James and Karen Hurd canoeing in Morton Bay.